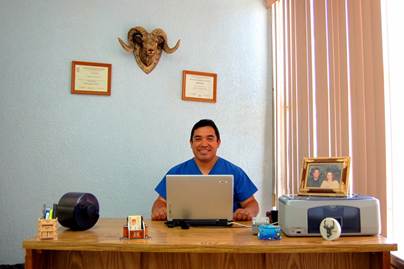 Doctor Felipe Alberto Xolalpa Rojas
Dental Surgeon UABC Graduate.

Orthodontistry e Implants
Doctor Felipe Alberto Xolalpa Rojas has served the community of Playas de Rosarito and the surrounding area for 17 years in one place; serving national and international patients who are accustomed to the highest standards of dental care.
Come and visit Dental Playas with your dental concerns, and Dr. Xolalpa will gladly work with you to provide a solution.
Dental Playas offers general dentistry, as well as specialized treatments in orthodontics and implants.
Among our general dentistry services, we offer:
Bridges and Crowns in different materials and alloys (metal porcelain, metal-free, with nuclei of zirconia, gold, porcelain, and resin).
Dentures in two types of materials:
Rigid (conventional acrylic)
Flexible(Lucitone, proflex, etc.)
Removable Bridges:
Rigid (metal acrylic and flexible metal)
Flexible (Lucitone,proflex, etc.)
Cast and prefabricated posts Endonics in anterior and posterior teeth Oral surgery (wisdom teeth, mucoseles, fibroids, etc.) Single and multiple extractions Mercury-free restorations (3M brand resins) Periodontal treatment (gum disease)
You need to upgrade your Flash Player